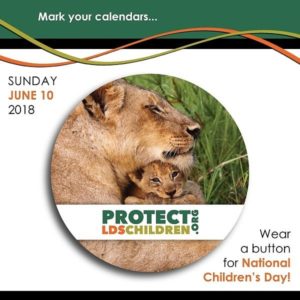 Sunday June 10th is National Children's Day. The day's purpose is to honor the children in our lives.  Protect LDS Children (PLDSC) plans to honor our children by fostering their protection.
We encourage all supporters to wear a button during your June 10th activities. The buttons will bring awareness to the plight of LDS children who are subjected to grooming and shaming behaviors, behind closed doors with Mormon leaders.  Help start the conversation and raise awareness about this unfortunate reality for our LDS youth. People will notice, people will talk, and change will continue.
Of course, we hope that many many people will wear their buttons to an LDS church service.  Buttons in our buildings will make a big impact whether you are an active member or haven't been to church in years.
If you are not comfortable in a Mormon church, wear the button to another church, to the park, at the store or any activity outside your door.
We put up a petition, tens of thousands signed!  Then we marched, another thousand joined the line. Now a button, thousands more will participants this time!!  Please go to our Facebook event page to indicate your plans to participate.  And…please share the event.  THANKS!!!
Here's how YOU can get a button:
Make one of your own design.
Download the artwork and print your own.
Order 1 Button.
Order a 5 Button Pack
Order a 20 Button Pack
Order a Bumper Sticker